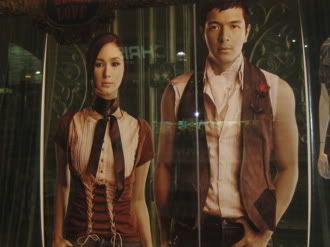 It was a shocking report of breaking up between Heart Evangelista and Jericho Rosales after three years of their relationship.
"I was so upset" admitted Heart. "I told to myself before that I dont want to elaborate between the two of us, I dont want to talk about it. For me, it's okay of saying 'no comment'. We are very much open about our relationship before… and now, he talked [Jericho] and he said lot of things about us, so I was shocked."
Heart denied reports about her parent's alleged involvement in the split:
"My family, for almost three (3) years Jericho and I been together they saw how I defended him. And they dont say anything like 'it's better for me this and that', nothing. They just let me do what I want because they knew that they can't do anything about it for sure, its my decision. So it's not true. So it's so clear for how much I pefended/fought and sacrificed my career, my family for three (3) years just for him."

THIRD PARTY. On the details about the breakup, she confirmed that a third party was indeed the cause of the breakup.
"The third party, it's true," said Heart. "Jericho goes to the house of the Malaysian girl. Aside from I saw Jericho…I saw the that he is changing. Before I heard the humors about it, I saw that he change a lot and we are started fighting because I can't stop him."
The Malaysian girl Heart was referring to is Carmen Soo, Jericho's leading lady in soap opera being shot in Malaysia.
Since Carmen is from Malaysia, is it true that Heart went to Malaysia to confront the girl?
"No," she answered. "That is not true. I never book a flight going to Malaysia. That's what I heard. That I goes to Malaysia just to confront Echo and it's cause delation of their taping. That is not true."
The other girl being mentioned as the cause of the breakup is Hollywood actress Briana Evigan, whom Jericho worked with in an international movie titled I Luv U Virus.
THE BREAKUP. Heart also made it clear that her breakup with Jericho wasn't through text or email.
"I didn't text him. I called him. And of course, he textback. But when i called him, I told him that it's over and I'm moving on," she related.
Upon seeing Jericho crying on TV while talking about their breakup,Hearts said " I don't know, I can't tell anything about it, all I know is that he is not like that when I talked to him, it's different. All I know is the truth and the important thing right now for me is that I'm happy and I'm moving on with my life."
Heart admitted that after watching Jericho's emotional interview on TV, he still tried to fix things with her. According to Heart, it also helps to have her mom with her on the set of Asero in Dubai, especially during these trying times.
Heart's message to Jericho was piercingly sweet. She said, "I heard before that I broke up with you on TV then you denied it. Now, you said a lot on TV. All I can say is, stop it. Stop it at sawang-sawa na ako. Tama na, tapos na yun. I will really find it in my heart to eventually to forgive you, but just stop it. Stop saying bad things about me. It's time for you to move on and it's time for me to move on. I hope you find somebody that you would surely love and who'll understand you. I'll just see you around."