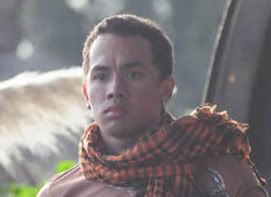 Bernabe "RJ" Calipus Jr., 20, a stevedore from Parola, Tondo fears heights. RJ is a son of a Filipina and of a French national. However, he never met his biological parents. Her mother had him adopted because she can no longer support him.
Life seems fast for this "Tondo" boy. He had his first daughter when he was 17 and just a few months ago, his live-in partner gave birth to their second daughter. RJ said he can endure his hunger but he can't stand to see his daughters sick and hungry. That is why he takes any job he can so he can provide for his family. However, he only finished 2nd year high school so he bears jobs like wharf porters and kargador in Divisoria. And at night, he takes up automotive classes.
'Pinoy Fear Factor" will hopefully give way for a number of first-times for RJ: First time to be out of the country, first time to ride on a plane, first time to be seen on TV and first time to be given the opportunity to compete for P2 million and (hopefully his family's first) brand new house and lot.