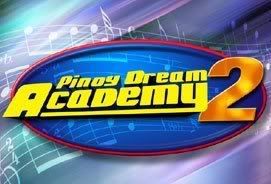 The 12 Little Dreamers finally revealed as they visit the Pinoy Dream Academy Season 2 Scholars. The Scholars prepared all day last night July 6 for their first get-together with the 12 Little Dreamers. Here is the list of the twelve inspiring young pinoy singers of the PDA 2 Litte Dreamers Competition.
1. Allen Angelo (6, from Oriental Mindoro)
2. Ana Mae or 'Amy' (6, from Las Piñas City)
3. Jerome or 'Je-Je' (7, from Marikina City)
4. Shane (6, from Bulacan)
5. Dean (7, from Laguna)
6. Philip (9, from General Santos City)
7. Nikki (8, from Nueva Ecija)
8. Kelly (8, from Valenzuela City)
9. Cristina (9, from Cavite)
10. Risie or 'Chin-Chin' (9, from Palawan)
11. Aubrey (10, from Batangas)
12. Leon (10, from Quezon City)

Who will be the first Little Dreamer winner?
Aubrey (58%, 1,269 Votes)
Philip (19%, 426 Votes)
Angelo (6%, 139 Votes)
Amy (6%, 139 Votes)
Cristina (3%, 74 Votes)
Kelly (2%, 48 Votes)
Jerome (2%, 38 Votes)
Risie (1%, 26 Votes)
Nikki (1%, 22 Votes)
Dean (0%, 8 Votes)
Leon (2%, 5 Votes)
Total Voters: 2,194
Loading ...
Amy, Aubrey, Je-Je, Angelo, Christina, and Philip are assigned to Liezel, Bugoy, Laarni, Sen, Cris, and Van, respectively. Bea, Sen, Iñaki, Christian, Miguel, and Bunny, on the other hand, were tasked to look over Nikki, Leon, Shane, Dean, Kelly, and Chin-Chin. Upon their arrival, the Scholars took some time to serve their little visitors. After that, they were also given enough time to get to know each other and a little more time to let the kids practice before they go on center stage. With the children's performances, the Scholars couldn't help but be amazed how good the kids were for their age.
The Little Dreamers competition was started on July 6, 2008, for children who are six to ten years old. Twelve children were chosen to compete in this side competition, taking place within the duration of this season. Billy-lit (a puppet) was also introduced as the Little Dreamers host.