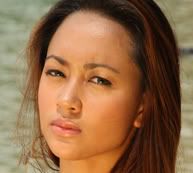 Dubbed as "The Model" is 20-year-old lingerie model Kristina "Kaye" Alipio from Calamba, Laguna. She is a sexy lingerie model with a solid Christian faith, Kaye is any guy's ideal girl. Beyond her good looks and natural allure, Kaye is also considered a role model by peers. She is described as a motivator and a counselor. Because of her pioneering work and active spiritual leadership, she was considered one of the youngest elders in their church.
Left by her mom in the care of a baby-sitter when she was only three months old, Kaye grew up to be an independent girl. She currently supports herself through college where she is an HRM student.
After 16 years of separation, Kaye was finally reunited with her mom in 2004. She dreams of buying her mother a new home and giving her a comfortable life. Kaye aspires to become rich so she can have anything she wants and still give to charity.
Photo/Picture:




Who is the First Pinoy Sole Survivor?
JC Tiuseco (42%, 937 Votes)
Kiko Rustia (13%, 284 Votes)
Zita Ortiga (13%, 280 Votes)
Jace Flores (7%, 154 Votes)
Patani Daño (6%, 133 Votes)
Nikki Dacullo (5%, 121 Votes)
Kaye Alipio (4%, 83 Votes)
Vern Domingo (3%, 75 Votes)
Marlon Carmen (2%, 35 Votes)
Rob Sy (1%, 29 Votes)
Charisse Yacapin (1%, 22 Votes)
Cris Cartagenas (1%, 20 Votes)
John Lopez (1%, 17 Votes)
Vevherly Gador (1%, 15 Votes)
Niña Ortiz (1%, 12 Votes)
Gigit Sulit (0%, 7 Votes)
Chev Macias (0%, 4 Votes)
Emerson Dino (0%, 1 Votes)
Total Voters: 2,229
Loading ...