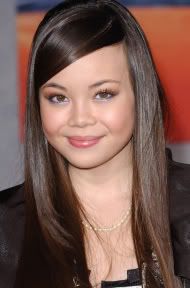 During the 50s and the 60s, It was Sylvia La Torre – The Queen of Kundiman who continued the legacy of their family's love of music. Sylvia is the daughter of soprano Leonora Reyes and film director Olive La Torre. She started her singing career at age five, entering a big amateur contest in Manila in 1938. She is renowned for her heart-rending interpretations of such immortal and timeless songs as "Bituing Marikit," "Nasaan Ka Irog," "Madaling Araw," "Mutya ng Pasig" and many other classics. La Torre was also the undisputed queen of novelty songs such as "Waray-waray," "Alembong," "No Money, No Honey," "Hahabol-Habol," "Dadaldal-Daldal", many of which found their way into the movies.
Now, it is her granddaughter Anna Maria Francesca Enriquez Perez de Tagle who was born on December 23, 1990 in San Francisco, California, raised in San Jose by Fillipino parents. She is a Fil-American teen actress, model, and singer. She is known for her role as Ashley Dewitt on Walt Disney's "Hannah Montana" with Miley Cyrus and Ella on "Camp Rock" with the famous Jonas Bros. She was also known as Miracle on Cake T.V, which airs on Saturday mornings.
"I've been singing already since I was about four or five but professionally I started singing at ten. I learned from my grandmother who's also a famous Filipino actress/singer in the Philippines." she proudly said.
Anna Maria Perez De Tagle will be part of the upcoming shows like "Bleachers" as Amber this year, "A Forgotten Innocence" as Allysa in 2009 and "Hannah Montana: The Movie" as Ashley Dewit next year too.
photo of Anna Maria Perez De Tagle with the Jonas Brothers (made up of three brothers: Kevin Jonas, Joe Jonas and Nick Jonas):